CLICK HERE NOW To get in touch with us to discuss our classes!
Muay Thai is a combat sport of Thailand that uses stand-up striking along with various clinching techniques. This physical and mental discipline which includes combat on shins is known as "the art of eight limbs" because it is characterized by the combined use of fists, elbows, knees, shins, being associated with a good physical preparation that makes a full-contact fighter very efficient
Muay Thai became widespread internationally in the twentieth century, when practitioners defeated notable practitioners of other martial arts. A professional league is governed by the World Muay Thai Council.
The word Muay means "to bind together" for example ; "Muay Phom" meaning binding hair into rounded shape. That's the same shape as when muay thai fighters wrapped their hands with hemp rope and hold their fist into rounded shape of muay. Thai called the action of punching with this rounded fist as "Toi Muay".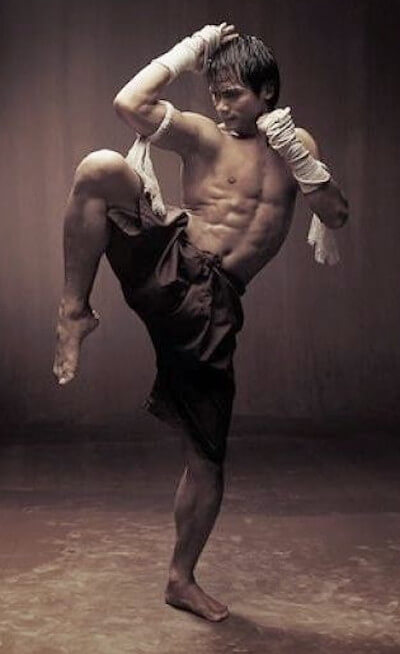 Muay boran, and therefore Muay Thai, was originally called by more generic names such as Toi Muay or simply Muay. As well as being a practical fighting technique for use in actual warfare, Muay became a sport in which the opponents fought in front of spectators who went to watch for entertainment.
These Muay contests gradually became an integral part of local festivals and celebrations, especially those held at temples. Eventually, the previously bare-fisted fighters started wearing lengths of hemp rope around their hands and forearms. Kickboxing was also a component of military training and gained prominence during the reign of King Naresuan in 1560 CE.
Muay Thai is referred to as the "Art of Eight Limbs" or the "Science of Eight Limbs", because it makes use of punches, kicks, elbows and knee strikes, thus using eight "points of contact", as opposed to "two points" (fists) in boxing and "four points" (hands and feet) used in other more regulated combat sports, such as kickboxing and savate.
Almost all techniques in muay Thai use the entire body movement, rotating the hip with each kick, punch, elbow and block.
The punch techniques in muay Thai were originally quite limited being crosses and a long (or lazy) circular strike made with a straight (but not locked) arm and landing with the heel of the palm. Cross-fertilization with Western boxing and western martial arts mean the full range of western boxing punches are now used: lead jab, cross, hook, uppercut, shovel and corkscrew punches and overhands as well as hammer fists and back fists.
Thai fighters can use either the Western or Thai stance which allows for either long range or short range attacks to be undertaken effectively without compromising guard.
The elbow can be used in several ways as a striking weapon: horizontal, diagonal-upwards, diagonal-downwards, uppercut, downward, backward-spinning and flying. The diagonal elbows are faster than the other forms, but are less powerful. The Elbow strike is considered the most dangerous form of attack in the sport.
Such elbows, and most other elbow strikes, are used when the distance between fighters becomes too small and there is too little space to throw a hook at the opponent's head. Elbows can also be utilized to great effect as blocks or as defences.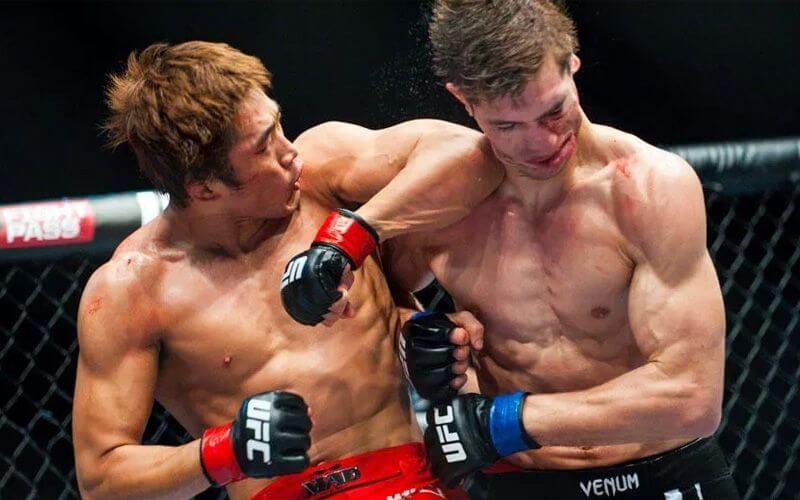 In Western boxing the two fighters are separated when they clinch; in muay Thai, however, they are not. It is often in the clinch where knee and elbow techniques are used.
Defensively, the concept of "wall of defence" is used, in which shoulders, arms and legs are used to hinder the attacker from successfully executing techniques.
A common means of blocking a punch is using the hand on the same side as the oncoming punch. For example, if an orthodox fighter throws a jab (being the left hand), the defender will make a slight tap to redirect the punch's angle with the right hand. Hooks are often blocked with a motion sometimes described as "combing the hair" – raising the elbow forward and effectively shielding the head with the forearm, flexed biceps and shoulder.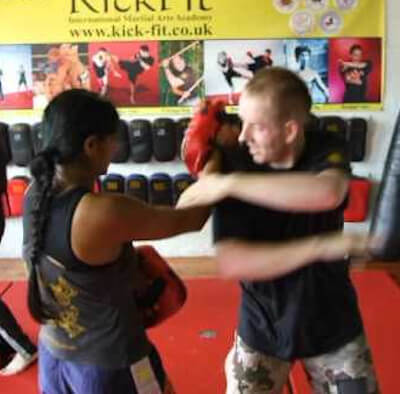 Muay Thai is specifically designed to promote the level of fitness and toughness required for ring competition. Training regimens include many staples of combat sport conditioning such as running, shadowboxing, skipping, bodyweight resistance exercises, medicine ball exercises, abdominal exercises, and in some cases weight training. Thai boxers rely heavily on kicks utilizing the shin bone. As such, practitioners of Muay Thai will repeatedly hit a dense heavy bag with their shins to condition them by hardening the bone.
Training specific to a Thai fighter includes training with coaches on Thai Pads, focus mitts, heavy bag, and sparring. The daily training includes many rounds (3–5 minute periods broken up by a short rest, often 1–2 minutes) of these various methods of practice. Thai Pad training is a cornerstone of muay Thai conditioning which involves practicing punches, kicks, knees, and elbow strikes with a trainer wearing thick pads which cover the forearms and hands. These special pads (often referred to as Thai pads) are used to absorb the impact of the fighter's strikes and allow the fighter to react to the attacks of the pad holder in a live situation.
Focus mitts are specific to training a fighter's hand speed, punch combinations, timing, punching power, defense, and counter-punching and may also be used to practice elbow strikes. Heavy bag training is a conditioning and power exercise that reinforces the techniques practiced on the pads. Sparring is a means to test technique, skills, range, strategy, and timing against a partner.
Muay Thai, is recognized as a highly effective striking base within MMA, and is very widely practiced among mixed martial artists. Countless other mixed martial artists have trained in the art and it is often taught at MMA gyms.