Grand Master (GM) Richard Hudson's list of credentials is nothing if not exhaustive. As well as having trained exclusively with Grand Masters in the Philippines, GM Hudson has also trained with the original students of the great Bruce Lee, both in the UK and USA.
Below is a list of Grand Master Hudson's extensive qualifications to teach a wide variety of styles, and as well as those achievements, Grand Master Richard has gone on to found several of his own styles of fighting.
He is the founder of the Philindomay-Silat system, and has also founded the Estilo Libre Eskrima Kali Arnis System, which is recognised and endorsed by Philippine Grand Masters. Then there's his Progressive Combat System, endorsed by Grand Master Richard Bustillo, who was an original student of Bruce Lee.
In 2002 GM Hudson was awarded the title of Punong Guro (Master) By Grand Master Daniel 'Danny' Guba – 9th Dan in the Doce Pares Eskrima System.
In 2020 GM Hudson was awarded the title of Grand Master. for his significant contributions to the art of Eskrima, Kali, Arnis.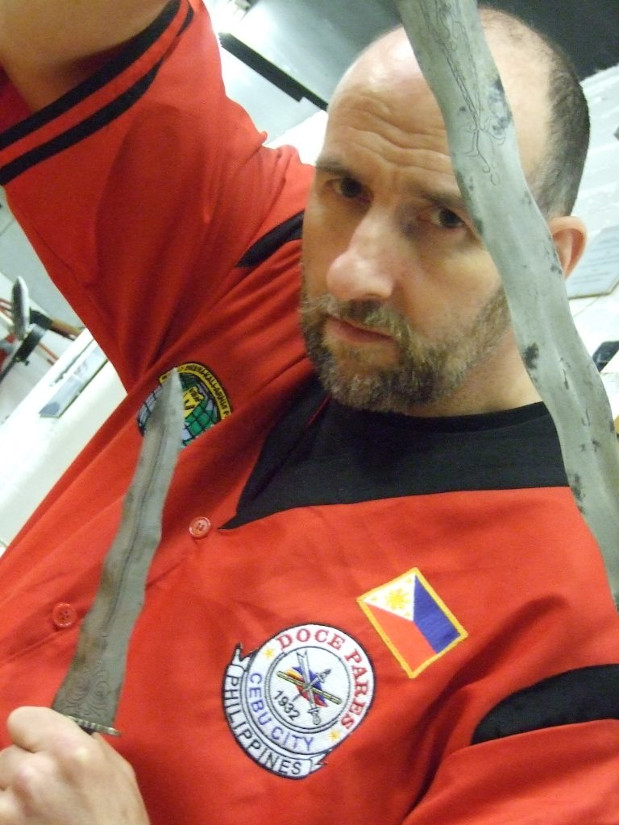 Grand Master Hudson's Resume
– "Just the Facts"
3 time Super Heavyweight World Champion in Eskrima – Full Contact Stick Fighting
8 Times Eskrima Kali Arnis British Champion (plus numerous other medals)
British Kickboxing Champion
Kru (Black Belt equivalent) in Muay Thai Boxing
Sifu (Black Belt equivalent) in Hsui Lung Tao Gung Fu
Black Belt in Progressive Kickboxing (Muay Thai/Boxe Francise)
Sifu (Black Belt) in Jeet Kune Do
Datu (Black Belt equivalent) in Penjak Silat
Instructor Level in the Dragon Society Pressure Point Fighting
9th Dan Black Belt Title in Doce Pares Eskrima System
Expert in the use, history, instruction and application of over 30 defence weapons
Expert in Self Defence – combining awareness, conditioning, fitness,  NLP and Body Language, and Body Mechanics
Personal Instructor to numerous British, European and World Champions
Personal Instructor to Military Personnel
Bodyguard to Popstars and TV Personalities
Appearances on TV, Film and Radio
But of course Sifu Hudson isn't simply a fighting machine, he also is a happy family man, and collecting historical swords and other antiquities in his few spare hours